Lucasfilm's American epic space opera film, Star Wars: The Force Awakens released in December 2015 and it went on to break numerous box office records worldwide.
The Force Awakens earned $34.5 million domestically (highest New Year's day collection) and $25 million internationally for a worldwide total of $59.5 million on New Years.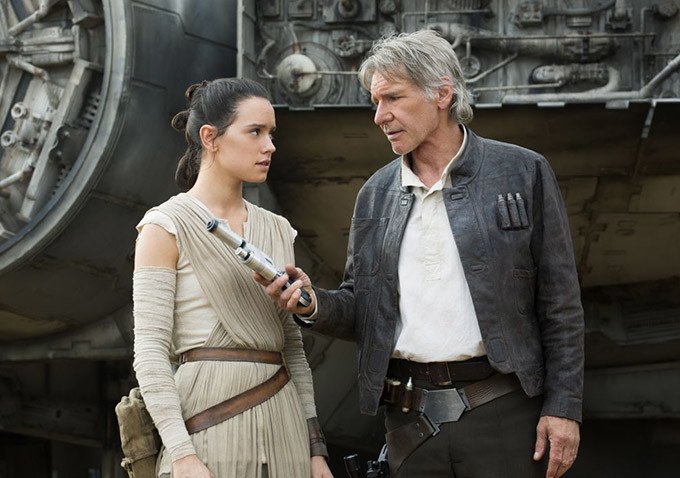 A domestic total of $686 million officially puts The Force Awakens at second place, surpassing Titanic ($658 million) & Jurassic World ($652 million).
---
Update: The film has grossed over $906.7 million in North America and $1.104 billion in other territories for a worldwide total of $2.011 billion, against a budget of $200 million, As of February 8, 2016.
Here's the all-time Top 10 charts (As of February 8, 2016):
Domestic
Star Wars: The Force Awakens: $905,961,469
Avatar: $760,507,625
Titanic: $658,672,302
Jurassic World: $652,270,625
Marvel's The Avengers: $623,357,910
The Dark Knight: $534,858,444
Star Wars: Episode I – The Phantom Menace: $474,544,677
Star Wars: $460,998,007
Avengers: Age of Ultron: $459,005,868
The Dark Knight Rises: $448,139,099
Worldwide (in Billions)
Avatar: $2,787
Titanic: $2,186
Star Wars: The Force Awakens: $2,011
Jurassic World: $1,668
Marvel's The Avengers: $1,519
Furious 7: $1,515
Avengers: Age of Ultron: $1,405
Harry Potter and the Deathly Hallows – Part 2: $1,341
Frozen: $1,279
Iron Man 3: $1,215
Today, during its 50 days in release, Star Wars: The Force Awakens is expected to cross the $900 million mark at the domestic box office, the only film in history to reach this milestone
On its 53rd day of global release, the film is expected to reach the $2 billion mark worldwide, becoming the third film ever to do breaking the record. In its either week run, the film has set a number of box office records, including:
Biggest domestic preview gross ($57 million)
Biggest opening day domestically ($119.1 million)
Biggest domestic second weekend ($149.2 million)
Biggest domestic third weekend ($90.2 million)
Biggest opening week domestically ($390.8 million)
Biggest opening weekend in 18 territories: U.K. (4-day), Australia, Russia, Germany, Sweden, Norway, Finland, Austria, Poland (3-day), Denmark (5-day), Romania, Hungary, Bulgaria, Croatia, Ukraine, Iceland, Serbia, New Zealand
Fastest film to $1B globally (12 days)
Biggest film of all time in the U.S. and the U.K.
Star Wars: The Force Awakens is currently the highest-grossing release of 2015. The highest-grossing film released by Walt Disney Studios, the highest-grossing film in North America, and the third-highest-grossing film of all time.
It was the 24th film in cinematic history to surpass $1 billion worldwide, and the fastest film to surpass the mark in 12 days.
The seventh installment in the episodic Star Wars film series. Directed by J. J. Abrams & co-wrote the screenplay with Lawrence Kasdan.
Star Wars: The Force Awakens is in theaters now worldwide in 2D, 3D, and IMAX 3D.
The next two sequels, Episode VIII and Episode IX, are scheduled for release on December 15, 2017 and in 2019, respectively.
You can like our page on 
Facebook
, follow us on 
Twitter
, subscribe to our
YouTube channel
, or add us to your circle on 
Google+
 to keep yourself updated on all the latest news around the web.