Sony Interactive Entertainment announced PlayStation 4 Pro (PS4 Pro) during their PlayStation Meeting in New York City.
PlayStation 4 Pro "delivers enhanced experiences through improved image processing capability and support for 4K quality images."
By boosting the performance and capability of the system architecture including the CPU and GPU, PS4 Pro allows games to deliver graphics with far more detail and unprecedented visual precision.
Users with 4K TVs will be able to enjoy all PS4 titles in higher quality, such as 4K quality resolution and faster or more stable frame rates. In addition, PS4 Pro supports 4K video playback to deliver 4K streaming video services such as Netflix and YouTube.
HDTV owners will also be able to enjoy the enhanced gameplay experiences on PS4 Pro, as the system delivers 1080p resolution for all PS4 games and higher or more stable frame rates for some supported titles."
"Today marks an exciting new milestone for PlayStation as we unveiled the high-end PS4 Pro in the midst of the console lifecycle, catering to gamers who are looking for a heightened PS4 experience," said Andrew House, President and Global CEO of Sony Interactive Entertainment.
"By accelerating the innovation cadence at PlayStation, we're introducing choice in the marketplace, enabling gamers to choose the PS4 model that meets their needs. Ultimately, with titles that leverage the potential of PS4 Pro – plus PlayStation VR launching soon – all PS4 owners continue to benefit from having the best place to play."
All PS4 systems will support "HDR imaging technology, which enables the reproduction of brightness and darkness while realizing a much wider range of colors.
Users who own an HDR-compatible TV will be able to enjoy supported games and other entertainment content with visuals that are more realistic, strikingly vivid and truer to the way the human eye sees the real world."
The form factor of the new system inherits the slanted body design of the previous models and the body design consists of three layers of blocks, symbolizing the powerful presence of the PS4 Pro and its solid feel, with mirror finished PlayStation family mark emblazoned at the center of its top surface.
PS4 Pro also comes with an additional USB port in the rear in addition to two USB ports in the front for connecting additional devices including the PlayStation VR virtual reality system.
The console features 1TB hard disk, so now you'll have space for more games, demos and more!!
This marks the first time ever in the history of PlayStation that a higher-end system will be introduced in the middle of the platform's lifecycle. PS4 Pro will complement the standard PS4, including the slimmer and lighter model also announced today.
PlayStation 4 will remain a single, unified platform, all PS4 titles will work across both standard, slim and Pro models.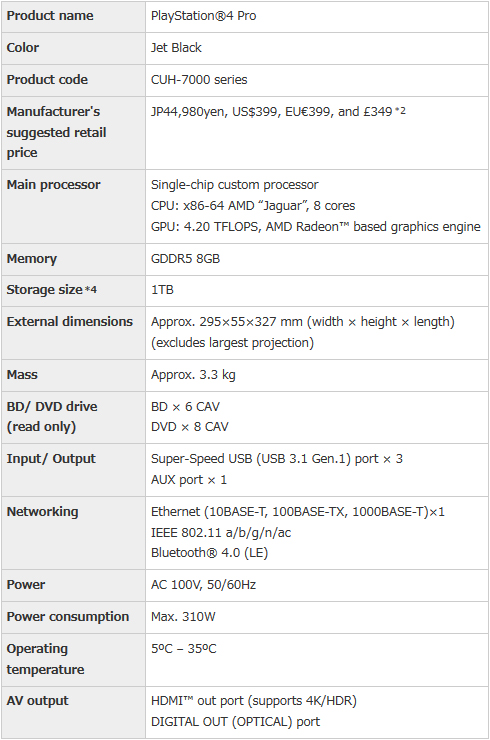 Here's the list of titles confirmed to take advantage of PS4 Pro's capabilities:
Call of Duty: Black Ops III (Activision)
Call of Duty: Infinite Warfare (Activision)
Call of Duty: Modern Warfare (Activision)
Days Gone (SIE)
Deus Ex: Mankind Divided (Square Enix)
Farpoint (SIE)
FIFA 16 (TripWire Interactive)
Final Fantasy XV (Square Enix)
For Honor (Ubisoft)
Horizon: Zero Dawn (SIE) – Gameplay Footage
inFAMOUS: First Light (SIE)
Killing Floor 2 (TripWire Interactive)
The Last of Us Remastered (SIE)
Mass Effect: Andromeda (EA) – Gameplay Footage
Middle-earth: Shadow of Mordor (Warner Bros.)
Paragon (Epic Games)
Rise of the Tomb Raider (Square Enix) – Gameplay Footage
Spider-Man (SIE)
Uncharted 4: A Thief's End (SIE)
Watch Dogs 2 (Ubisoft)
SIE will announce details of "PS4 Pro with its robust lineup of games from 3rd party developers and publishers as well as from SIE WWS towards its launch and will continue to further enhance the entire PlayStation ecosystem."
PS4 Pro is available for pre-order now, you can secure your console here (UK here).
PlayStation 4 Pro will be available on November 10, 2016, in Japan, North America and Europe for 44,980 yen, US$399, €399 and £349.