Hello Games' upcoming first-person, adventure open world survival game, No Man's Sky has been delayed, according to reports.
Gamestop received new marketing materials today from Hello Games with the original June 21 release date.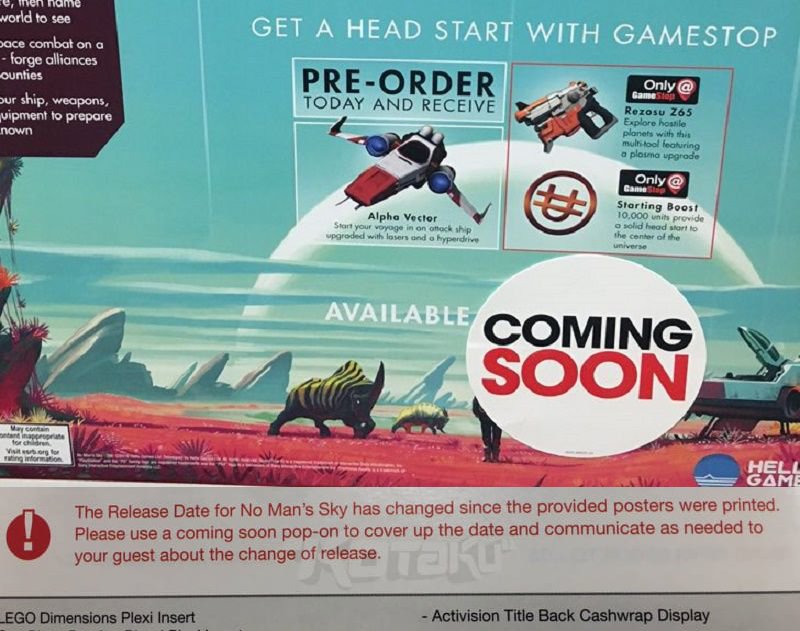 However, the store was informed by corporate that the release date was no longer correct and that it should be covered with a "Coming Soon" label.
The label reads: "The release date for No Man's Sky has changed since the provided posters were printed.
Please use a coming soon pop-on to cover up the date and communicate as needed your guest about the change of release."
Kotaku's sources said, "We don't know exactly what the new release date is—and it may not be finalized yet—but we're hearing it's been bumped until at least July or August."
In the game "Players take the role of a planetary explorer in an uncharted universe.
They are equipped with a survival spacesuit with a jetpack; a 'multitool' that can be used to scan, mine and collect resources as well as to attack or defend oneself from creatures and other entities while on a planet; and a spacecraft that allows them to land and take-off from planets and travel between them and engage in combat with other space-faring vessels.
With this equipment, the player is then free to engage in any of the four principal activities offered by the game: exploration, survival, combat, and trading."
No Man's Sky was originally scheduled to launch on June 21, 2016 for PlayStation 4 and PC.
Like us on
Facebook
, follow us on 
Twitter
, subscribe to our
YouTube channel
, or add us to your circle on 
Google+
 to keep yourself updated on all the latest news around the web.