The first look at Benedict Cumberbatch as Doctor Strange has been revealed in the latest Entertainment Weekly cover.
Update: EW released 5 more photos from the movie, check them out in the slider below & let us know what you think in the comments!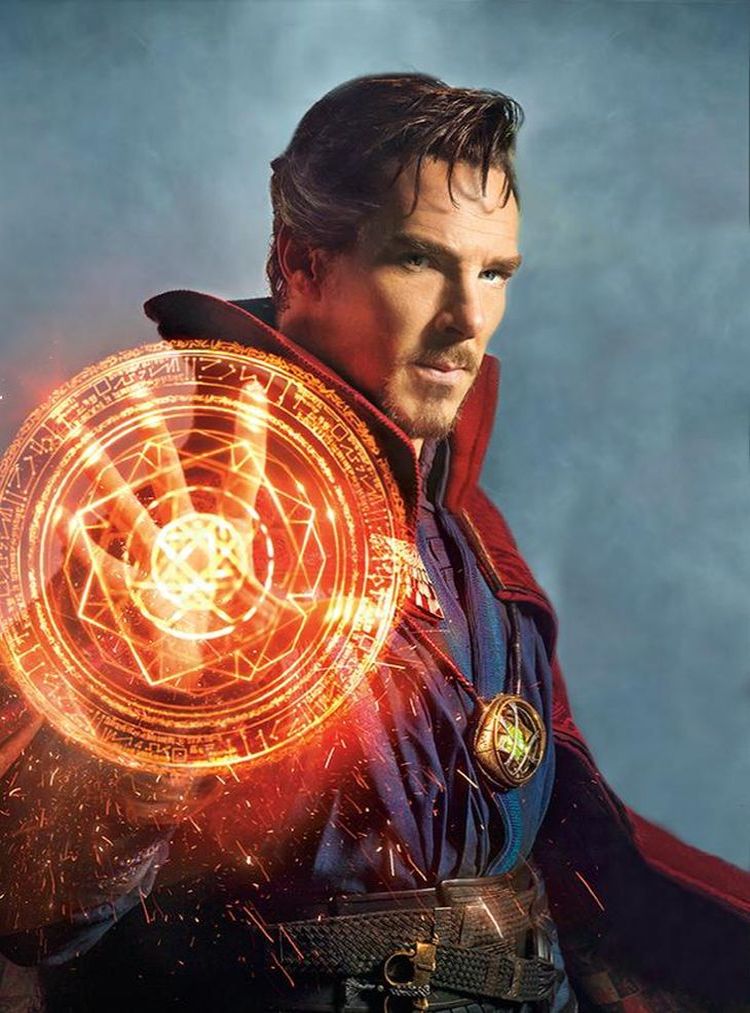 "I'm still in the infancy of learning all that, he told EW. It was like, okay, I've got to keep throwing these poses, these spells, these rune-casting things, everything he does physically.
I'm thinking, there's going to be a huge amount of speculation and intrigue over the positioning of that finger as opposed to it being there, or there.
And I'm still working on that. We haven't played any of those scenes yet. I felt really self-conscious. But, then, by the end, it was great. It's like anything, you just have to experiment."
Cumberbatch, Kevin Feige & Scott Derrickson answer few questions for EW:
A Stunning Mystery
"When this comic appeared in the early '60s, it really informed, in a way that is pretty amazing, a lot of the psychedelic '60s as we know it.
I don't know that they were doing anything weird in the bullpen in Marvel, but certainly the stuff they were doing inspired all those people who were doing mind-expansion experiments at the time," explains producer Kevin Feige.
"So, that's inherent to the property. And that's our mission statement for the visual effects on this movie."
The Doctor Is In
"These gestures are ways of creating the magic. It's a beautiful thing, it's balletic, it's very dynamic. And once the boys in the backroom get to work on it, there's going to be crazy s–t going on."
The Chamber of Relics
"I'm perpetually awestruck that I'm getting to make this movie, director Scott Derrickson tells EW. I keep waiting for the knock on the door when somebody says, 'This movie's too weird, we can't make this.'"
Do You Believe in Magic?
"There's all sorts of craziness [in Doctor Strange]. Falling, flying, jumping, fighting, punching, getting punched. It's really rough and tumble."
Dr. Stephen Strange
"[Benedict] was someone that we were very interested in for a very long time," reveals Feige.
"But he kept getting more popular, and more popular, and he kept getting busier, and busier, and it looked like the timing wasn't going to work.
So we looked at some other actors for a while and ultimately decided, 'We have to try and make it work with Benedict and with his schedule.'"
The principal photography began in November 2015 in Nepal, it is underway in several locations around the world, that includes London, New York & Hong Kong.
The cast includes Benedict Cumberbatch, Chiwetel Ejiofor, Rachel McAdams, Michael Stuhlbarg, Mads Mikkelsen, Tilda Swinton.
Directed by Scott Derrickson, his creative team includes director of photography Ben Davis, B.S.C., production designer Charles Wood, costume designer Alexandra Byrne, editors Wyatt Smith & Sabrina Plisco and visuals effects supervisor Stephane Ceretti.
Scripted by Jon Spaihts, Thomas Dean Donnelly and Joshua Oppenheimer.
Doctor Strange is scheduled to hit theaters on November 4, 2016.
You can like our page on 
Facebook
, follow us on 
Twitter
, subscribe to our
YouTube channel
, or add us to your circle on 
Google+
 to keep yourself updated on all the latest news around the web.
Source: ew.com