CD Projekt Red has detailed their upcoming action role-playing video game, Cyberpunk 2077 PC Specs along with some new screenshots and more.
Previously, CD Projekt published Cyberpunk 2077 PC specs with just minimum and recommended, but now they have detailed it with 4K, RTX and more, check it out below and let us know in the comments if your PC can run it!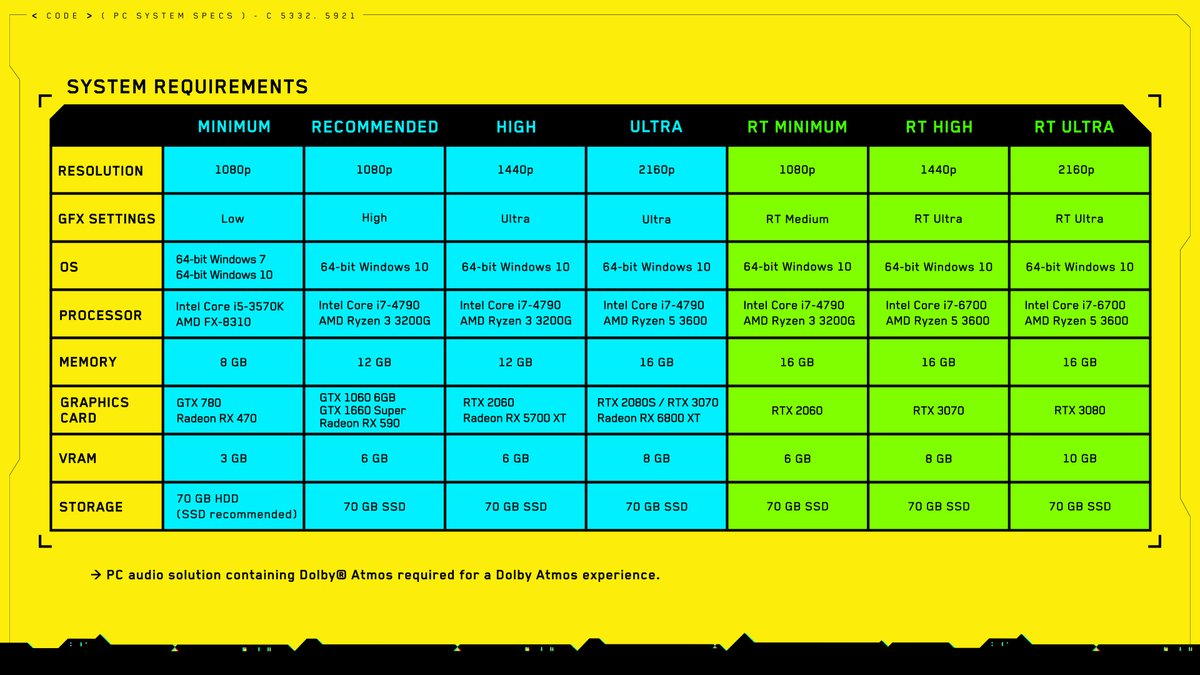 Additionally, CD Projekt RED released new Cyberpunk 2077 trailer and videos, including a behind the scenes video featuring a Canadian actor,
Keanu Reeves
, who plays Johnny Silverhand, an influential & legendary Rockerboy and the lead singer of the band Samurai before the breakup in 2008.
As well as gameplay and an action-packed trailer focusing on Johnny Silverhand and his unique connection with the game's protagonist, V.
Check out the videos in the player below including the gameplay trailer highlighting an assortment of aspects of the open world, action-adventure story players will be engaging, complimented with some never-before-footage showcasing the experiences in Cyberpunk 2077's dark future!
Synopsis:
"Cyberpunk 2077 is a continuation of the events of Cyberpunk 2020, taking an alternate path to that of Cyberpunk V3.0. The game is set in the dystopian metropolis of Night City. It is in the Free State of Northern California.
Night City is located south of San Francisco around the area of Morro Bay, CA. During Cyberpunk 2020, Night City is said to have a population of more than five million inhabitants. However, this number is suspected to be considerably larger in 2077.
Following an economic collapse sometime during the early 21st century, the United States is forced to rely on large corporations to survive.
These corporations deal in a wide range of areas, such as weapons, robotics, cybernetics, pharmaceuticals, communications and biotechnology, and many of these companies operate above the law.
The game follows the story of V — a hired gun on the rise in Night City, the most violent and dangerous metropolis of the corporate-ruled future.
A robust character creator will allow players to choose V's gender, visual appearance, as well as historical background — all of which may influence the shape of the game."
Cyberpunk 2077 will arrive on December 10, 2020 for PC, PS4, Xbox One, including PS5 and Xbox Series X. At a later date, a free upgrade to the game will be available for owners of Xbox One & PS4 versions respectively.