Following the reveal trailer, Electronic Arts and DICE revealed a Collector's Edition & Deluxe Edition for their upcoming first-person shooter, Battlefield 1.
In addition to a $59.99 standard edition, Battlefield 1 will ship in two special editions: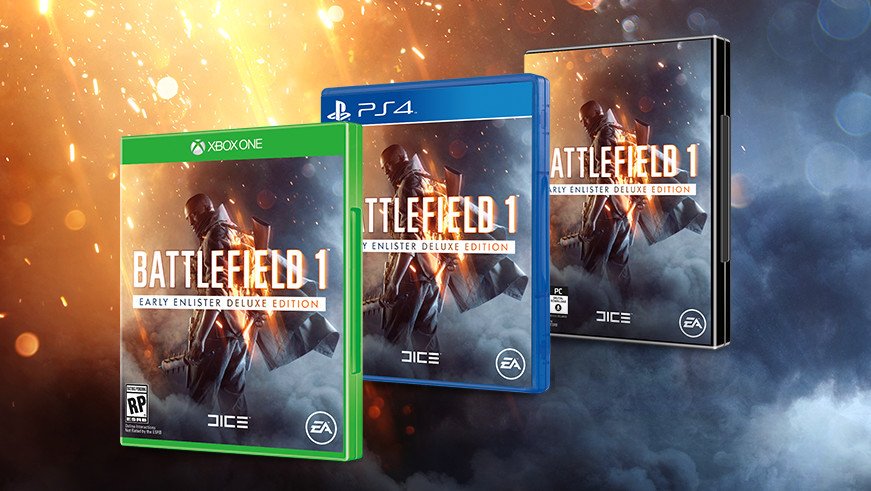 Early Enlister Deluxe Edition ($79.99):
Early Access on October 18th
Hellfighter Pack containing themed items inspired by the heroic Harlem Hellfighter infantry regiment.
Red Baron Pack & Lawrence of Arabia Pack – containing themed weapons, vehicles and items
5x Battlepacks containing combinations of items. Also exchanges the visual appearance on three of the largest vehicles in the game.
Exclusive Collector's Edition ($219.99):
Battlefield 1 Deluxe Edition Base Game
Collector's Edition Statue (14″ Tall)
Exclusive Steel book
Exclusive cloth poster
Deck of playing cards
Messenger pigeon tube with exclusive** DLC content
Exclusive patch
Premium packaging
"Battlefield 1 takes you across multiple and varied locations in a bid to fight your way through immersive battles.
From tight urban fights in a besieged French city, to big open spaces in the Italian Alps and frantic combats in the deserts of Arabia, discover a world at war through an adventure-filled campaign.
In a true multiplayer sandbox experience, take to the skies and engage in high-octane dogfights through treacherous landscapes, or have a battleship obliterating the coast from the sea, and engage in some of the biggest battles ever seen as empires clash for supremacy.
Set against the backdrop of World War 1, witness the birth of modern warfare, as the Great War saw a furious arms race with new machines and weapons created to get the upper hand during the most technologically divergent war of all time.
Feel the intensity and immersion as Battlefield 1 takes advantage of this modern arsenal to deliver the experience fans love, but with a fresh and modern twist."
Battlefield 1 is scheduled to be released on PC, PlayStation 4 and Xbox One on October 21, 2016.
Like us on
Facebook
, follow us on 
Twitter
, subscribe to our
YouTube channel
, or add us to your circle on 
Google+
 to keep yourself updated on all the latest news around the web.