Warner Bros. Pictures has revealed new character posters for their upcoming American superhero film, Batman v Superman: Dawn of Justice.
After giving us the "The Trinity" posters, we get new posters featuring Lex Luthor (Jesse Eisenberg), Lois Lane (Amy Adams) and Alfred (Jeremy Irons).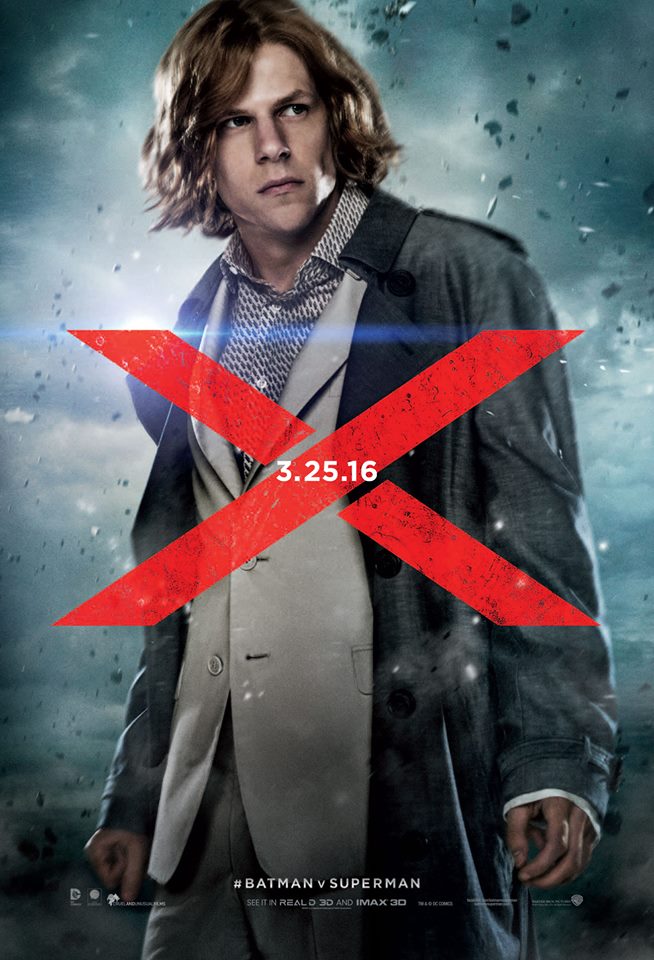 The film features Henry Cavill, Ben Affleck, Gal Gadot, Jesse Eisenberg, Jeremy Irons, Holly Hunter, Callan Mulvey, Tao Okamoto, Amy Adams, Laurence Fishburne, Diane Lane and Scoot McNairy.
It is intended to be the sequel to 2013's Man of Steel and the second installment of the DC Comics' shared universe films.
Directed by Zack Snyder with a screenplay written by Chris Terrio and David S. Goyer.
Produced by Charles Roven and Deborah Snyder with Benjamin Melniker, Michael E. Uslan, Wesley Coller, David S. Goyer and Geoff Johns serving as executive producers.
Synopsis:
"Fearing the actions of a god-like super hero left unchecked, Gotham City's own formidable, forceful vigilante takes on Metropolis's most revered, modern-day savior, while the world wrestles with what sort of hero it really needs.
And with Batman and Superman at war with one another, a new threat quickly arises, putting mankind in greater danger than it's ever known before."
Batman v Superman: Dawn of Justice is scheduled to be released on March 25, 2016 in IMAX 3D.
You can like our page on 
Facebook
, follow us on 
Twitter
, subscribe to our
YouTube channel
, or add us to your circle on 
Google+
 to keep yourself updated on all the latest news around the web.